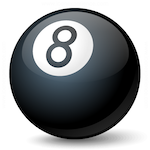 This Saturday at the Cinch we are excited to begin qualifying for the yearly 8-ball tournament.
The 8-ball tournament has taken place each spring since 1979, alternating with a fall 9-ball event since 1981. Eight qualifying tournaments will take place over the next four weeks; at each qualifier, two players will earn spots in the 16-player final and two runners-up will receive "princess points" which serve as tiebreakers in case any qualified players don't show up for the May 7th final at Family Billiards.
An entry fee of $25 allows participation in as many qualifiers as the player would like to attend. Qualifier participants will also get an SFPA T-shirt at the season-ending awards party.
Please check the calendar for dates and locations and good luck to all entrants!