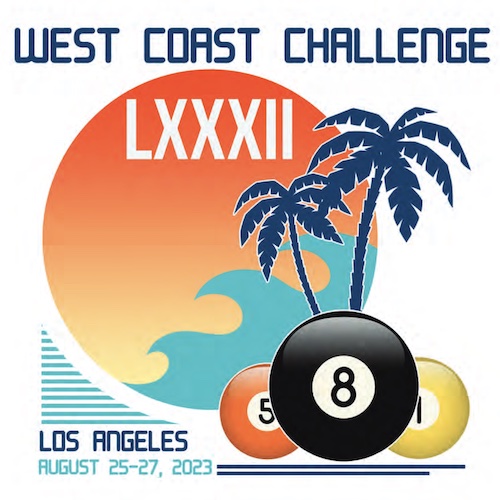 After a fun weekend in Burbank, SFPA's contingent to the West Coast Challenge returns to Northern California today with trophies from a number of wins and high placements. Congratulations to the entire SF delegation but especially the following:
Crystal Kelem earned her first women's individual title, getting the monkey off her back after three previous runner-up finishes.
Tom Seymour and Jojo Abuda roared through the competition to take down the Hi-Lo title. Has Tom made a case for naming the tournament after him with a 7th career victory?
Strongly overperforming the expectations of a 6 seed, Will Shaheen finished 2nd overall in the open individuals tournament in his first West Coast Challenge appearance. Marcelo Aviles (7th) and Kevin DeWar (8th) also earned trophies for finishing in the top 8.
The Pilsner InnDecisives finished 3rd in their first WCC appearance as a team, winning their first tie-up against eventual runners-up Los Angeles before bowing out in close contests with Long Beach for the hot seat and then a rematch with LA in the losers bracket.
Mike Maxwell was runner-up in the hard fought, highly competitive Saturday night scotch doubles Calcutta, more than paying for his trip to LA. Danny Mullan, Kevin DeWar, Steven Waldon, JM Reasonda, Skinner Castagnola-Arteaga, and Skip Perry also had high finishes in the three night tournaments.
Full results and brackets can be found on our West Coast Challenge 82 page.
We look forward to doing it again next summer in San Diego!